Over the past ten years, Capital One Philippines has achieved significant milestones that have not only shaped the organization but have also made a meaningful impact on the lives of Filipinos.
From its humble beginnings to launching the Contact Center Readiness Program (CCRP), winning the PEZA Award for Outstanding Employer of the Year, receiving Global Certification from Great Place to Work, and expanding remote work beyond Metro Manila, its commitment to delivering malasakit shines through.
Capital One Philippines' history and milestones are testaments to its unwavering dedication to providing exceptional customer service and driving positive change to the country.
Reflecting on this journey, Capital One Philippines President Sara Murphy says, "Our story in the Philippines has been nothing short of extraordinary. We have strived to push the boundaries of what's possible in the world of customer experience, while uplifting Filipino lives and constantly evolving to meet the changing needs of our stakeholders. As we celebrate a decade of achievements, we remain focused on transforming the Philippine IT-BPM industry."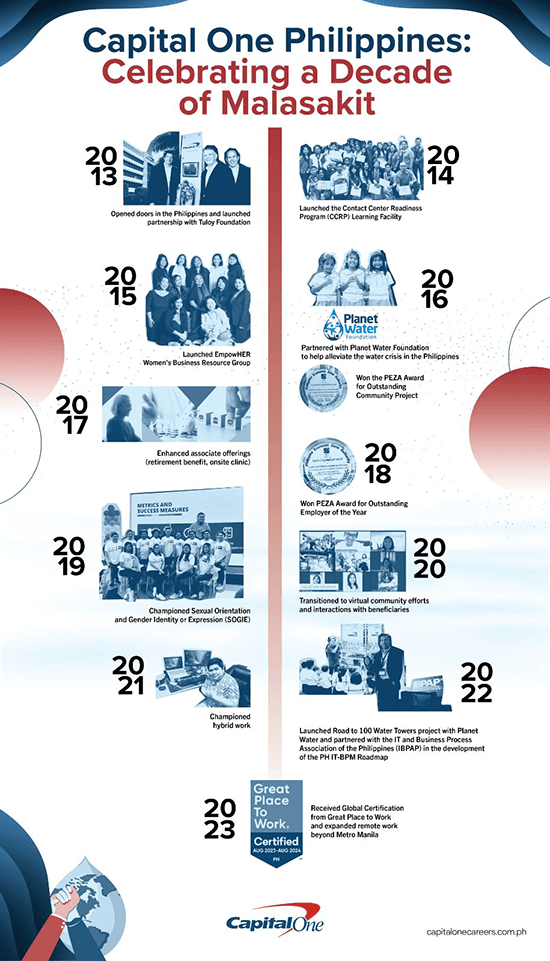 As Capital One Philippines celebrates a successful decade, the organization looks ahead with optimism. Murphy adds, "Our mission to 'Change Banking for Good' continues. We look forward to supporting the growth and development of the Philippines through strengthened partnerships and investments in our communities and the Filipino talent."